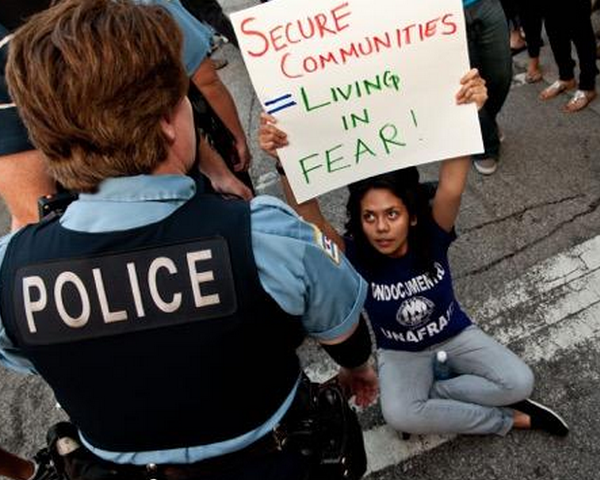 Communities within Los Angeles might be able to rest a little easier now, with families fearing a little less of being torn apart by unlawful detentions, deportations, and inherently flawed immigration laws.
After multiple attempts to end[ref]"L.A. County ends contract with ICE, then OKs future collaboration" Los Angeles Times, May 12, 2015, http://www.latimes.com/local/lanow/la-me-ln-ice-los-angeles-287g-20150512-story.html[/ref] the immigration enforcement authorization known as 287(g), victory has finally come to Los Angeles in ending the controversial pact between local and federal law enforcement. In efforts to improve collaboration between the Department of Homeland Security (DHS) and local law enforcement, Section 287(g) deputized county cops, and granted them the authority to enforce immigration laws and detain individuals for extended periods of time. This includes finger-printing and verifying residential status of individuals taken into custody by local cops. Finger-prints are submitted to federal databases to determine immigration status. If there is a match, the individuals are detained until federal agents can arrive, which can sometimes take multiple weeks. Los Angeles was one of only two counties in California, and one in a handful in the nation, that had implemented the entirely voluntary collaboration.
However, this victory for the immigrant rights movement is only temporary. On the same day 287(g) was struck down, another policy was has been presented by the Los Angeles Board of Supervisors.[ref]Joseph Tanfani and Kate Linthicum, "L.A. County Ends Contract with ICE, Then OKs Future Collaboration," Los Angeles Times, May 12, 2015, accessed May 27, 2015, http://www.latimes.com/local/lanow/la-me-ln-ice-los-angeles-287g-20150512-story.html.[/ref] The Priority Enforcement Program, or PEP, is an initiative by the Immigration and Customs Enforcement (ICE) which aims to modify and continue collaboration with local law enforcement, jails, and prisons, in regards to immigration laws. President Barack Obama presented PEP during a speech on immigration after a similar initiative, Secure Communities, was discontinued after being embroiled in controversy and lawsuits. PEP promises to tailor enforcement toward serious crimes and criminals, not families, the same promise made by Secure Communities and 287(g). Can the third version of a dragnet immigration system be the charm that federal agents are looking for and that communities need? We can only find out if we examine the Vendetta – when we consider deportations and their tendency to break families apart and make communities less secure, is the newest iteration of immigration enforcement less destructive than previous attempt?
Section 287(g) of the Immigration and Nationality Act actually predates Secure Communities, or S-Comm for short, by over ten years. While Section 287(g) was presented as a voluntary program for local and state law enforcement, Secure Communities was a mandatory program that required local jails and prisons to submit finger-prints of individuals in custody to ICE, before due process and before being brought in front of a judge. Piloted by the Bush administration in 2008, S-Comm was radically escalated under President Obama, who oversaw the largest number of deportations of any president, with a record two million within the first five years of his presidency.[ref] "U.S. deportations of immigrants reach record high in 2013" Pew Research Center, October 2, 2014, http://www.pewresearch.org/fact-tank/2014/10/02/u-s-deportations-of-immigrants-reach-record-high-in-2013[/ref] Advocates for S-Comm positioned the program as being no different than traditional arrests and bookings, with officers running the names of those arrested against a national database to search for other crimes in other jurisdictions.[ref] "How to improve an immigration status check" The Washington Post, March 20, 2011, http://www.washingtonpost.com/opinions/how-to-improve-an-immigration-status-check/2011/02/04/ABf93O3_story.html[/ref] S-Comm's intended goal was to modernized law enforcement and keep communities safe from potentially dangerous criminals. However, mandatory fulfillment of federal duties by local and state authorities was found to be in violation of the tenth amendment.[ref] "Legitimacy Of Secure Communities Program Weakened," ABC News/Univision, December 12, 2012, http://abcnews.go.com/ABC_Univision/News/legitimacy-secure-communities-program-weakened/story?id=17921778[/ref]
Supporters further claim the collaboration was intended to target "those with convictions for serious felonies including violent crimes," stating that there is "neither inclination nor resources to deport suspects with otherwise clean records," or individuals accused "for low-level infractions."[ref]"How to Improve an Immigration Status Check," The Washington Post, March 20, 2011, http://www.washingtonpost.com/opinions/how-to-improve-an-immigration-status-check/2011/02/04/ABf93O3_story.html[/ref] Despite these expressed intentions, the implementation was far from ideal and attracted criticism from governors, mayors, as well as state and local law enforcement.[ref]"Secure Communities," Department of Homeland Security, November 20, 2014, http://www.dhs.gov/sites/default/files/publications/14_1120_memo_secure_communities.pdf[/ref] The policy was eventually deemed unconstitutional after numerous lawsuits,[ref]"PEP-Comm: A Wolf in Sheep's Clothing?" New America Media, November 25, 2014, http://newamericamedia.org/2014/11/pep-comm-a-wolf-in-sheeps-clothing.php[/ref] and was responsible for the detention and deportation of countless noncriminals and parents, some of which were detained for weeks or months at a time. Three percent of which were held for over three months, with nearly half of them eventually released. [ref]"Legal Noncitizens Receive Longest ICE Detention," TRAC Immigration, June 3, 2013, http://trac.syr.edu/immigration/reports/321[/ref]
There was victory eventually with the national repeal of Secure Communities and a recent victory with the opting-out of 287(g) in Los Angeles. But the proposal of Priority Enforcement Program reeks of S-Comm 2.0 and risks further damaging community policing, civil rights, and families. Steps to mend the relationship between the immigrant community and local police in Los Angeles via the TRUST Act[ref] "Gov. Brown signs 'Trust Act' prohibiting detaining undocumented for deportation in minor arrests," Southern California Public Radio, October 5, 2013, http://www.scpr.org/news/2013/10/05/39668/california-gov-jerry-brown-signs-trust-act-into-la/[/ref] might be compromised and further eroded by PEP. Multiple promises were made[ref]"Civillmmi Ration Enforcement: Guidance on the Use of Detainers in the Federal, State, Local, and Tribal Criminal Justice Systems," Department of Homeland Security, December 21, 2012, http://www.ice.gov/doclib/detention-reform/pdf/detainer-policy.pdf [/ref] [ref] "Secretary Napolitano's Memorandum Concerning the Exercise of Prosecutorial Discretion for Certain Removable Individuals Who Entered the United States as a Child," Department of Homeland Security, June 15, 2012,http://www.ice.gov/doclib/about/offices/ero/pdf/s1-certain-young-people-morton.pdf [/ref][ref] "Exercising Prosecutorial Discretion Consistent with the Civil Immigration Enforcement Priorities of the Agency for the Apprehension, Detention, and Removal of Aliens" Department of Homeland Security, June 17, 2011, http://www.ice.gov/doclib/secure-communities/pdf/prosecutorial-discretion-memo.pdf [/ref] to change S-Comm and prioritize dangerous criminals for deportation. These promises were left unfulfilled. In fact there was an increase in deportations of low-level offenders. [ref]"Secure Communities and ICE Deportation: A Failed Program?" TRAC Immigration, April 8, 2014, http://trac.syr.edu/immigration/reports/349[/ref] It makes it difficult to believe these new promises made by advocates of PEP.
More so, if we look beyond the numbers, what we see are real people and a real struggle. Numbers such as how four out of ten Latinos are less likely to report crimes,  or how thirty-eight percent of undocumented residents being afraid to leave their own homes,[ref]"UIC: Latino Perceptions of Police Involvement in Immigration Enforcement," National Day Laborer Organizing Network, May 8, 2013, http://www.ndlon.org/en/resources/item/791-uic-latino-perceptions[/ref] and that nearly thirty percent of deportations consist of people with no criminal record[ref]"Documents Reveal Pressure to Comply With Program to Deport Immigrants," New York Times, March 26, 2011 http://www.nytimes.com/2011/03/27/us/27cncimmigration.html[/ref] obscure real life stories. These stories tell of a mother selling tamales to make ends meet, faced with detention by police, and having her two children placed into foster care[ref]"Trust Act Passed Too Late For Sacramento Mother," ABC 7 News, June 18th, 2012, http://abc7news.com/archive/8741313/ [/ref]; or victims of domestic violence facing deportation for calling the police for help.[ref]"Domestic-Violence Victim Calls 911 And Is Nearly Deported," ABC 7 News, May 12, 2011, http://abc7.com/archive/8128621[/ref] [ref] "Noncriminals Swept up in Federal Deportation Program," April 25, 2011, http://articles.latimes.com/2011/apr/25/local/la-me-secure-communities-20110425[/ref] These people were victims of Secure Communities. PEP is only but a rebranding of the flawed federal initiative. We ought to free the immigrant community from the fear of broken families and deportation and re-instate justice by ending PEP before it get the chance to do more harm.
Take Action:

Find your local National Day Laborer Organizing Network (NDLON) chapter, and donate your time or money to help fund the end of programs such as 287(g) in other counties and PEP. The NDLON website provides a breadth of knowledge on important immigration issues and allows easy action online by signing petitions and contacting your congressperson or local council member.
Comments
comments